Emergencies
---
The Emergency feature allows you to activate and manage emergencies that may happen or perform drills to be better prepared in an emergency situation.
Activating an emergency instantly notifies students through their mobile app and any user that you specify with a custom email notification. The emergency remains active until you manually cancel or resolve it.
Before you learn how to activate an emergency, you will want to review your district or school account settings. This page contains setting specific to emergency management. More information on those settings here .
How do I Activate an Emergency?
You can activate an emergency in one of two ways:
In the upper right corner of every page of your web portal will be a red Activate Emergency button. This is a quick way to activate an emergency from any screen.

OR by clicking on Emergency in the left navigation pane then clicking the Activate Emergency button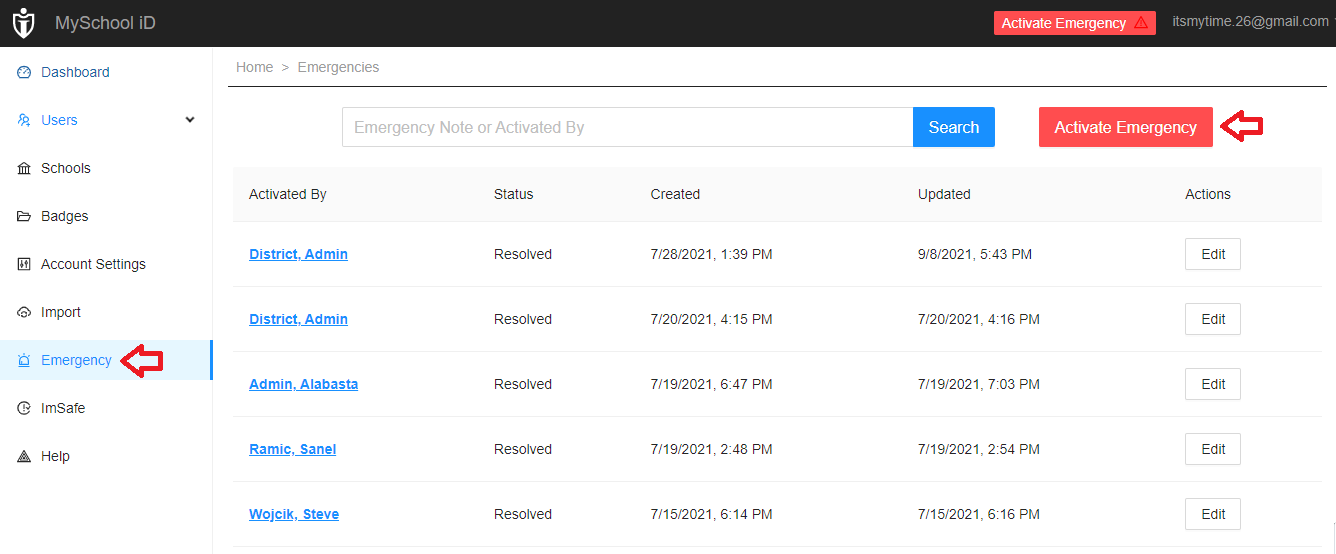 Once you click to initiate an emergency you will see the page below.

Select which group(s) of users will receive a notification for the emergency then select the school and input a custom message that will be sent as part of the notification.
Once you click Submit the emergency is active and all users are immediately notified. This includes notifying students using the mobile app as well. A push notification is sent directly to the students alerting them of the emergency. When the student opens the app they will be able to mark themselves safe or needs help, allowing them to send direct messages to a school official. You can view these requests in the Im Safe and Help sections of the web portal. More information below.
Emergencies have 3 statues:
Active - The emergency is active and all users will be notified
Resolved - Emergency is no longer active; students cannot mark themselves safe from the mobile app; this status must be set manually by an admin
Cancelled - Emergency is no longer active and was manually cancelled through the web portal
Once the emergency is active there are 2 areas of your web portal to manage the emergency: I'm Safe List will give you a list of your students and their status and the Help area is where you can respond in real time to messages sent by students from their mobile app.
Im Safe List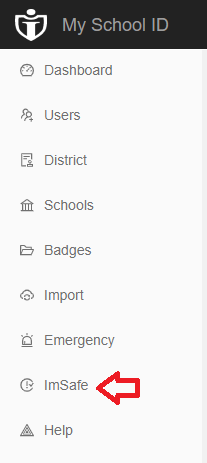 The status of all students can be viewed in the Im Safe area of the web portal. This will give you a list of each student and their status. You can also manually mark individual students safe from this screen as well. To mark a student safe find the student in the list and click Mark as Safe. This can be changed back to Unknown if a student is marked safe by accident.